There Is a Light That Enters Houses With No Other House In Sight
mixed-media and sound installation, dimensions variable, 2019
The third exhibition of the Female Avatars' Futurist Statement series, There Is a Light That Enters Houses With No Other House In Sight, is presented by artist Kuo Yu-Ping. Taking up the space of a ground floor and basement, the exhibition consists of several sculptures, sound, and site-specific installations to form a dimming and uncanny environment that resembles a dwelling space. There is a participatory component that invites the audience to imagine his/her own house through writing, which opens up a public space that could accommodate diverse personal narratives.
Following the thread in Kuo's recent oeuvre, the pit is seen as the metaphor of a connecting point between inner consciousness and corporeality. The house here further signifies subjective consciousness. In the space, the audience is invited to freely navigate from the ground floor to the basement. The perception and rationale of selfhood, as well as actions shaped by various socio-political contexts the visitors bring in, are then revealed and reflected in the movement. As a result, the exhibition space connects the outer and the inner, which means it mediates between our outer behaviours and inner consciousness. The descending movement to the basement is an allegorical gesture of excavating hidden desires, knowledge, and emotions.
The writing project invites the audience to write their stories and read those of others. These diverse bodily experiences then become a bricolage of self-awareness and reflexive performativeity which is crucial in the process of establishing identities. The texts and drawings in the exhibition resonate with the banyan-like treadmill installation, suggesting how bodies are disciplined by our consciousness and subconsciousness.
In There Is a Light That Enters Houses With No Other House In Sight, the house is a metaphor of the body, whereas the pit (the dungeon) leads to the soul, which challenges the body–mind duality. The body mediates between a disruptive and continuous flow of senses. Together with the power structure in the real world, the body (represented through space) also forms different situations that challenge norms of perception. In the meantime, the bodies of all genders that interact with this space also become a writing system that carries engraved carnal experience, telling a story of one's own.
Sound Design: Yannick Dauby
sound link:
 https://drive.google.com/file/d/1do3jsNetyYbIva99-t3soiOsh8IqGNKz/view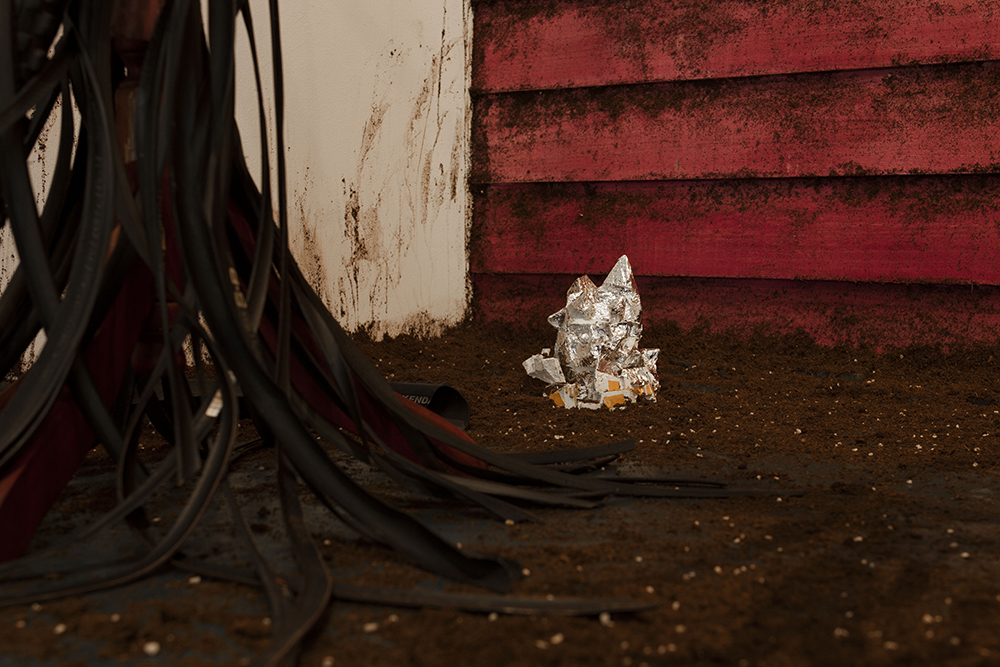 detail shots of the installation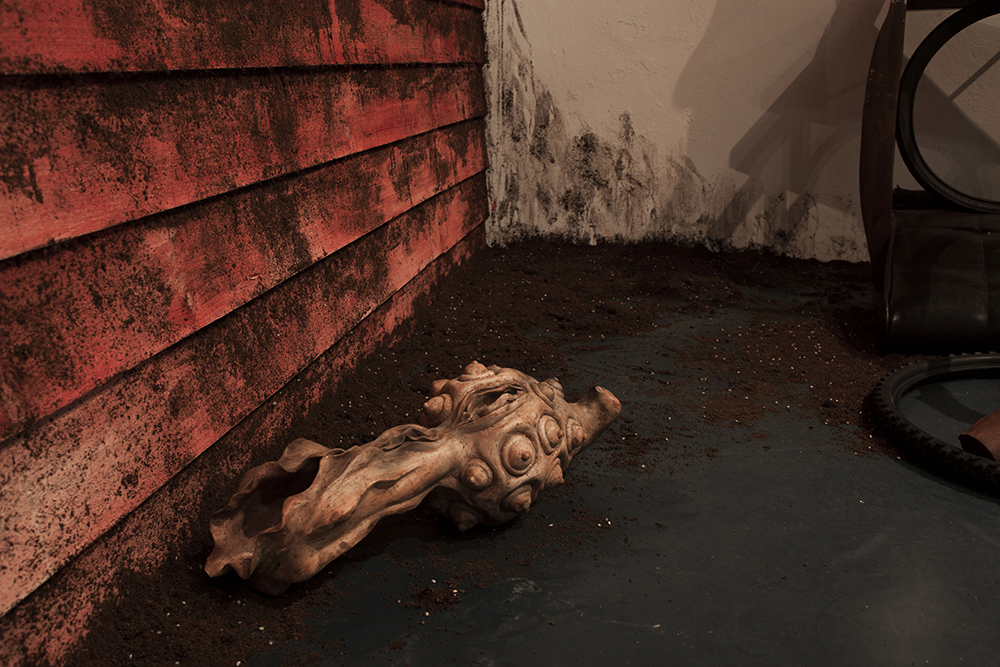 detail shots of the installation